Newbury Antiquaries
Members of The Council for British Archaeology
The British Forum for Metal Detecting - AMMDI - The Friends of Old Berkshire and Heritage2100.

Treasurer Mr M.B.Spanswick - Secretary Mrs V.Wood - Chairman Mr Martin Tanner SG.
---
Formed in July 1988 The Newbury Antiquaries are a small group of enthusiasts with a common interest in Newbury and the surrounding district. Sometimes we work together on a joint project, gathering information in the manner most suited to the project in hand. At other times we work separately, often as volunteers with other groups. This can be on everything from archaeological digs, to researching documents and photographs. In fact anything to increase the knowledge of our local history. Most Newbury Antiquarians (but not all) are detectorists and metal detecting has always played a big part in the Newbury Antiquaries projects These pages contain a glimpse of some our past and current projects.
We hope you find them of interest.
In 1992 the historic site of the second battle
of Newbury was bulldozed to make way for
a Golf course. Newbury Antiquaries with
with support of Newbury District Museum
gained permission to metal detect and field
walk the site. Upon completion Newbury
Museum held a reception as the start of an
exhibition of the finds and the launch of the
report produced by Newbury Antiquaries.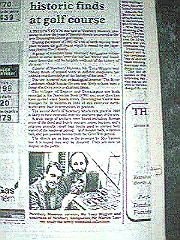 Good press covarage
of the launch of our report and exhibition of finds at
Newbury District Museum (Curator Tony Higgott
looks at finds with Martin Tanner) a Cutting from
The Newbury Weekly News.